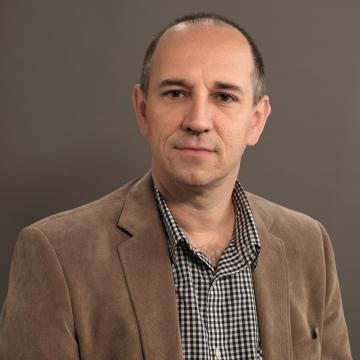 Office hours
Office hours:
- Winter semester: Thursday, 13.00-14.30, 419
- Summer semester: Tuesday, 9.30-11.00, 419

It is advisable to make an appointment by e-mail.



Cabinet
419
Department of Educational Sciences
Assoc. Prof. Marko Radovan
Learning and education of adults, teaching methods, educational technology, ICT in education and digital skills.
Dr. Marko Radovan is an associate professor at the Department of Educational Sciences at the Faculty of Arts in Ljubljana. At the faculty, he teaches various subjects related to adult teaching and applied ICT in education, such as "Andragogical didactics", "Methods of adult education" and "E-learning". His research focuses on issues of adult learning and learning motivation and educational technology. He has participated in various international and national research projects, such as. LLL2010 (Towards a Lifelong Learning Society in Europe), PIAAC (Survey of Adult Skills), Digital UL — with innovative use of ICT to excellence and more.
Bregar, L., Zagmajster, M. in Radovan, M. (2020). E-izobraževanje za digitalno družbo. Ljubljana: Andragoški center Slovenije.
Radovan, M. (2019a). Cognitive and Metacognitive Aspects of Key Competency "Learning to Learn". Pedagogika, 133(1), 28–42. https://doi.org/10.15823/p.2019.133.2
Radovan, M. (2019b). Should I Stay, or Should I Go? Revisiting Student Retention Models in Distance Education. Turkish Online Journal of Distance Education, 20(3), 29–40.
Radovan, M., & Kristl, N. (2020). Učenje in poučevanje v virtualnem učnem okolju – pomen oblikovanja skupnosti in sodelovanja. Sodobna Pedagogika, 71(2), 10–23.
Radovan, M., & Perdih, M. (2018). Analysing Accessibility, Usability and Readability of Web-based Learning Materials – Case study of e-learning portals in Slovenia. Journal of E-Learning and Knowledge Society, 14(1). https://doi.org/10.20368/1971-8829/1389
Compulsory Courses
Elective Courses